Join our Pilates Teacher Training Program!
Start your career with us! Become a fully certified, classically-trained Pilates instructor after completing our Pilates Teacher Training Program. Learn the classical Pilates method as we learned it directly from Joseph Pilates protégé – Romana Kryzanowska. Our leadership team will mentor you as you embark on your journey to become a highly skilled and sought-after Pilates instructor. Our comprehensive training program trains students in the classical method of Pilates on both mat and all apparatus, providing a well rounded education that will help candidates be competitive in today's job market.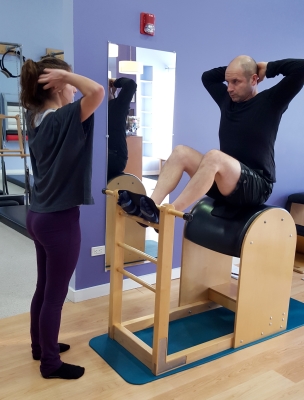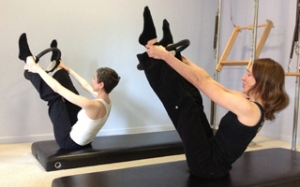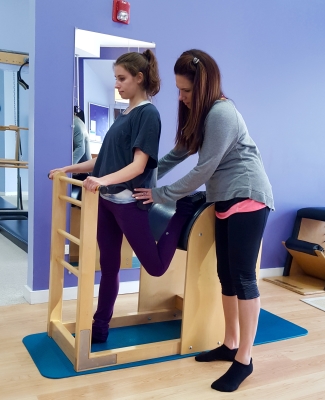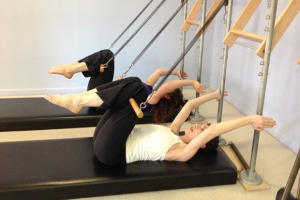 You love Pilates and have already seen what it can do for your body – why not help others? Create your own following of dedicated clients.
With the immense and growing popularity of Pilates, qualified instructors are always in demand in locations around the world – take your job anywhere!
Pilates is an exercise method that will keep you healthy and in shape for your entire life.
The Perks! Flexible hours, competitive pay, and a holistic and mindful work environment with like-minded individuals who share your passion for the method.
We were one of the first Pilates studios in Westchester County, and we have a lot of knowledge to share with you about teaching Pilates and working with clients.
Even before we opened our doors in 1998, our owners, Elle Jardim and Donna Singer, had a strong following of devoted Pilates enthusiasts.
Our training program offers personalized instruction, apprentice mentorship, and help with career support upon graduation of the program.
You will finished the program with confidence in your Pilates practice and with sound teaching skills.
You will be trained on mat and all apparatus from beginner through advanced in our comprehensive Pilates Teacher Training Program. After completing 450 hours of apprenticeship, you will be qualified to gain additional certification through the Pilates Method Alliance (PMA). The training program runs at all three of our studios – two on the Upper East Side of New York City and the other in Scarsdale in Westchester County.
$4,500.00 and includes:
450 hour program in 12 months.
Full mat and apparatus training (reformer, Cadillac/tower, chair, large barrel, small equipment & props).
75+ hours of training seminars and topical workshops (anatomy, pre/post natal, injuries, leading a group).
Comprehensive training manual and study/work sheets.
Discounted private and semi-private sessions.
Complimentary group classes for duration of apprenticeship.
4 Practical Exams and 2 Written Exams
Access to studio and equipment for training and observation.
Review sessions and help with job placement.
Mandatory mentorship meetings at 200hrs and 400hrs.
10-Week Apprentice-led Tower Mat Class (to be completed after passing Intermediate test).
$4,500.00 paid in full at time of registration, which entitles you to discounted private sessions and free classes before the first seminar.
$2,250.00 paid at time of registration; remaining $2,250.00 paid by first seminar (discounts begin after first seminar).
*We offer work-study opportunities for qualified applicants. Please contact us for details about our Work Study Program.
The program must be completed in 12 months (from start of beginning seminar). If certification is not completed within 12 months, the student will have to pay for private sessions and group classes at the full rate, and the student will have to pay for any additional seminars (including the ones that he or she missed).
A minimum of three private/duet sessions must be completed each month. This means that to graduate, the student will have completed 36 private or duet sessions at Center For Movement with certified Pilates instructors.
Must complete 10-Week Apprentice-led Tower Mat class. This Tower Mat class can be completed at either our 2nd Avenue or Scarsdale studios. This class is considered a part of your apprenticeship and education in becoming a certified teacher, and therefore is unpaid.
Ideal candidates should have 20 hours of private or semi-private Pilates instruction using Pilates apparatus, and 30 hours of mat or other group Pilates classes. All applicants are required to be evaluated by our program director and demonstrate that they have a basic understanding of the classical Pilates method.  You may be required to take additional pre-req sessions at Center For Movement if you do not demonstrate proficiency in the method  before training commences.
Contact us at 
pilates@centerformovement.com
 to schedule a certification evaluation.  The evaluation cost $75.00 and lasts approximately 45 minutes.
For more information, please call or email us: (914) 722-7646 or pilates@centerformovement.com.
2018 – Dates TBA
Coming soon…
2018 – Dates TBA
2018 PTTP runs at our Westchester County studio.
Center For Movement's Pilates Teacher Training Program was an amazing experience. CFM prepared me to be a great instructor, and I left the program with a high level of confidence.
I'm a personal trainer and the clients that hold onto me are usually the ones who don't want a cheerleader, or a drill sergeant. When I went to Center For Movement and took a reformer class with Elle, one of the founders of the studio, I knew I had found a great gift, the right home for my Pilates training.

 

It's an understatement to say that Elle is someone who truly cares about her students. She has great integrity in her work, respects the people that come to her, gives everything she has (and this is a lot) in her teaching.